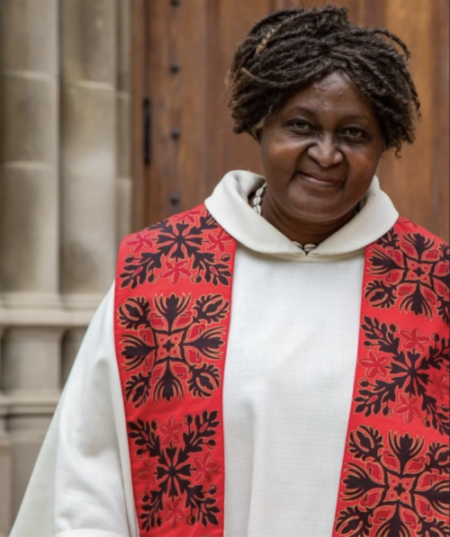 Rev. Grace Imathiu to Lead Bible Study and Preach at Annual Conference

"The World is her Parish"
Rev. Grace Imathiu is Senior Pastor of First United Methodist Church Evanston, IL. She has also served churches in Kenya as a church planter; a superintendent minister overseeing 68 rural churches in Nkubu; and an urban minister to an ecumenical congregation in Nairobi with strong outreach to the neighboring slums of Kawangware. Pastor Grace is intimately familiar with the Church in its many theological expressions and social locations.
Grace loves people and has a passion and gift for inspiring and nurturing communities of faith to live out loud the prophetic story of Jesus. For Grace, the quintessential expression of the resurrected Lord's presence is a community whose very DNA is a radical hospitality which births a loving and a healthy tension that is ideological, theological, racial, ethnic and cultural.
For Rev. Imathiu "the world is her parish". As an African who married a European and is raising an American son, Grace is committed to advocating for the inclusion of all people. She has preached in Germany, Ireland, New Zealand, Togo, Liberia, Denmark, Australia, Malaysia, Brazil, and all throughout the United States.
Laity Event Speaker Kimberly R. Daniel

Laity Perspective: Christian Innovation
Kimberly R. Daniel has over 15 years of experience leading communications efforts at non-profit organizations and has helped to catalyze faith-driven entrepreneurs to do good.
Kimberly currently serves as senior director of communications at the Forum for Theological Exploration (FTE). FTE is a leadership incubator that inspires young people to make a difference in the world through Christian communities. She is also a co-founder of DO GOOD X, an initiative that provides a community and an accelerator for underrepresented Christian entrepreneurs whose businesses focus on social impact. Kimberly is co-author of A Way Out of No Way: An Approach to Christian Innovation (FTE Books, 2022), an award-winning book selected by the Publishing Professionals Network for its design.
As the daughter of a United Methodist Church pastor and a teacher, Kimberly is energized by inspiring people to align with their purpose and to make a positive impact in communities with their God-given gifts and talents. Kimberly holds a Master of Arts in arts and business administration from Savannah College of Arts and Design and a Bachelor of Arts in communication from Coastal Carolina University.